Kamisori Shears is one of the most popular hairdressing scissor brands due to their unique style, professional haircutting blades and overall reputation.
Visiting a new salon or barbershop and you won't be surprised to find a pair of Kamisori scissors on the counter.
Kamisori delivers a wide range of professional hair scissors that include:
Long barbering hair shears
Stylish Black and Rose Gold Designs
Premium Damascus Steel Scissors
All-rounder hair cutting and thinning blades
So if you are visitng this page to either browse, buy or learn about Kamisori, be rest assured that you get what you pay for, and what you get is a premium pair of hair scissors!
The most popular models from Kamisori are:
Kamisori hair scissors are available in Australia & New Zealand with free express shipping via AusPost.
Browse the complete Kamisori shears collection in Australia & New Zealand Here!
Everything you need to know about the Kamisori Scissor brand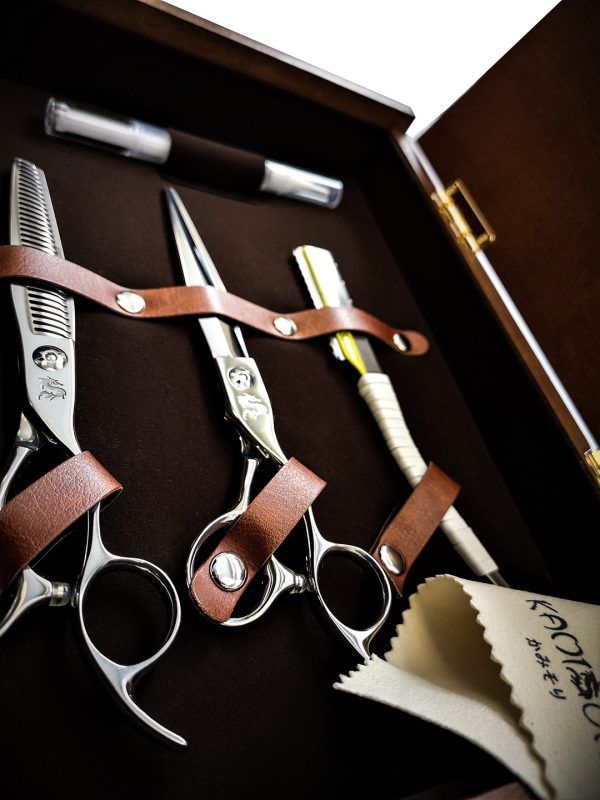 Not every hair scissor has unique sharp blades that produce amazing haircuts. However, Kamisori Scissors is one of the best hair scissor brands you can find ever. Kamisori is a reputed haircutting and barber shear manufacturer. Moreover, many hairstylists use this scissor brand. And, that makes them a popular choice across the world.
Benefits of buy Kamisori Shears
Kamisori uses only the best hardened Japanese steel to manufacture their hair tools. Apart from that, their scissors have convex-edged sharp blades.
Kamisori Scissors are a reputable brand worldwide because it has won many awards globally. However, the awards prove that Kamisori produces the best hairdressing scissors. Moreover, they are the best scissors to buy.
Convex-edged blades of the highest quality go in the making of Kamisori scissors. As a result, you can get a great point, slice, chop, or other kinds of hairdressing techniques with ease.
Each pair of Kamisori scissors has comfortable ergonomics. As such, they help you work for longer hours without getting tired.
The Limited Edition Scissor designs by Kamisori stand out from the rest. Moreover, these scissors follow the latest trends and they are stylish as well.
Kamisori Scissors are becoming popular worldwide. The brand focuses on producing the best-quality hair scissors for hairdressers and barbers.
Moreover, there is free shipping on each order of genuine Kamisori Scissors. Now, you can place your order from anywhere in the world.
Kamisori Scissors use stainless Japanese steel of the highest quality. Also, they are handmade by experts. The company is proud of its high-quality products.
Kamisori Scissors have sharper scissor blades and great ergonomics. Moreover, the craftsmanship of their scissors is very rare.
In Australia, the Kamisori manufacturing unit goes through a strict procedure. Each scissor pair has to meet the high-quality standard. And, each of them has to undergo severe craftsmanship.
To arrive at the final product, each scissor pairs has to go through 93 different steps. Because of this reason, Kamisori got so much popularity. In short, Kamisori manufactures high-quality hair scissors.
Apart from that, the unique craftsmanship is very rare. The company has been designing and manufacturing haircutting scissors for generations now. Making top-notch scissor blades is like an art to Kamisori. And, they preserve it for generations to come.
Moreover, not many people have the talent required to master different methods of producing unique shears. As a result, they deliver only the best products. Lots of effort goes into making a quality product. Apart from that, these methods were carried from generation to generation.
Because of that, we produce balanced and lightweight hair scissors intended for delicate haircutting.
Hair scissors that reflect true craftsmanship
Kamisori hair shears use high-quality materials to manufacture them. And, they are handmade by experts. Such kind of craftsmanship is rarely found on other brands.
Australian hairdressers love to use Kamisori hair shears. That's because they try to grab quality haircutting tools with high standards.
Kamisori hair shears have a good ergonomic design. And, they are lightweight as well. As a result, you can have a smooth haircut.
During the assembling process, every pair of Kamisori scissors undergo tough experimentation and testing. In short, the scissors have to pass through 93 different caution strides. That way, the final product becomes a perfect one.
Kamisori's senior workers in Australia have been making hair shears for several ages. They believe that the sharp blade edge is a different kind of craftsmanship. And, very people with expertise can dominate.
Should you buy Kamisori hair scissors?
Kamisori hair scissors are handmade using the best materials. The amazing craftsmanship is not found on other scissor brands. Moreover, the products have good ergonomics along with a lightweight design.
During assembling, each scissor pair goes through a lot of testing and examination. 93 different ways of testing the product ensure that it remains flawless while operating.
The senior workers at Kamisori Scissors are manufacturing hair shears for many years. Moreover, the sharp edge scissor blade reflects good craftsmanship. Only a few people have such type of expertise.
Kamisori shears last for a lifetime
We are loyal to our consumers. So, whenever you buy Kamisori hair scissors there is a lifetime guarantee associated with them. 1-year incidental harm is included. Also, there is a cash refund policy of 15 days if you are not satisfied with the product.
Kamisori shears depict classic art. Hairstylists all over the world recommend the Kamisori brand.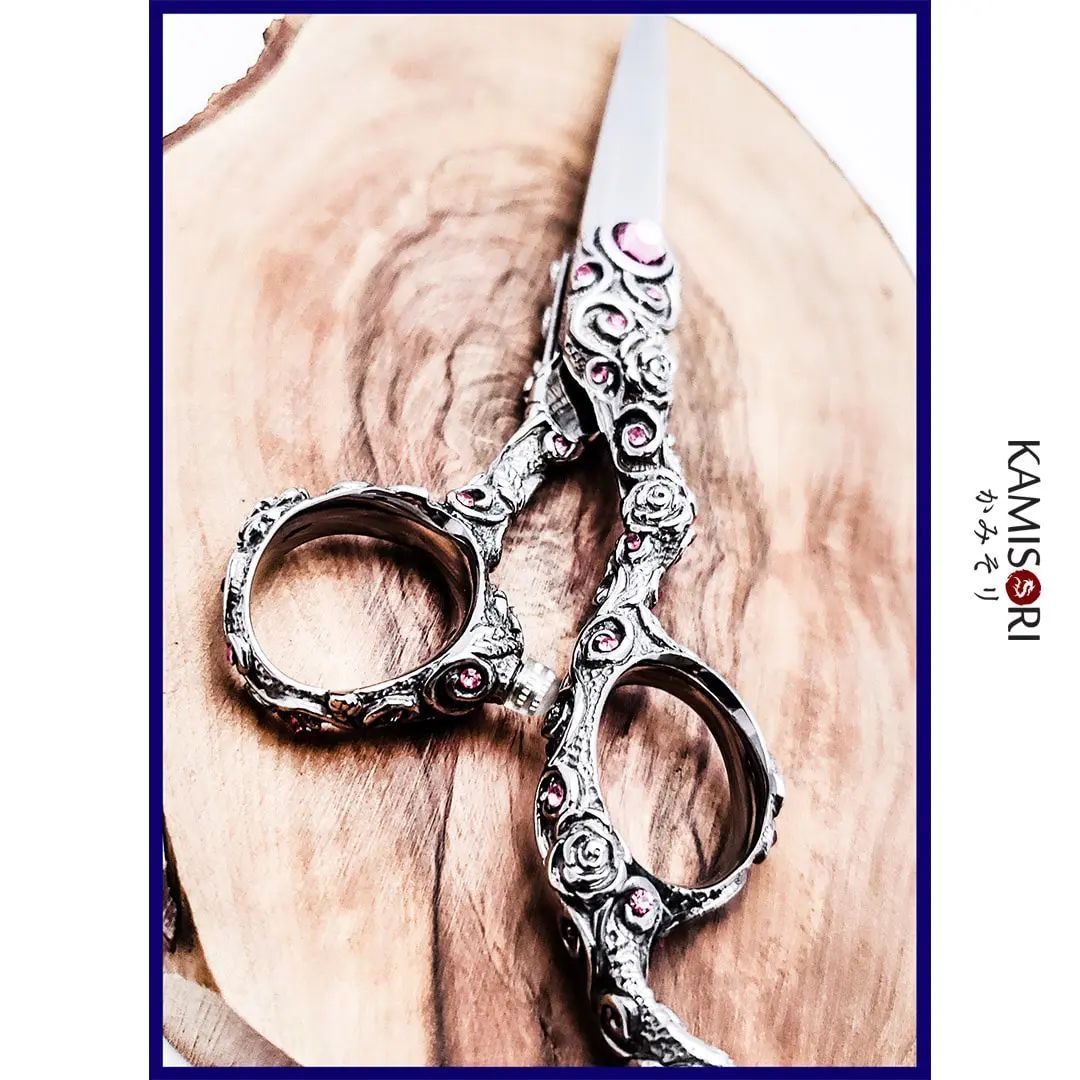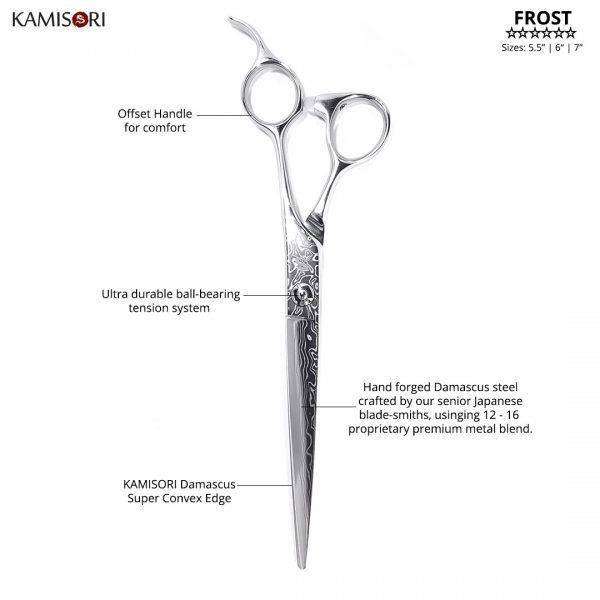 Kamisori collections for hairdressing professionals
We know what we make and can stand by our loyalty toward consumers. So, at any point when you buy Kamisori hair shears, you get a lifetime guarantee on the products. There is a 1-year incidental harm guarantee as well. Also, you get a cash refund if the product fails to satisfy you within 15 days.
Kamisori scissors is all about a work of classic art. These hair scissors are recommended by hairstylists worldwide.
Damascus collection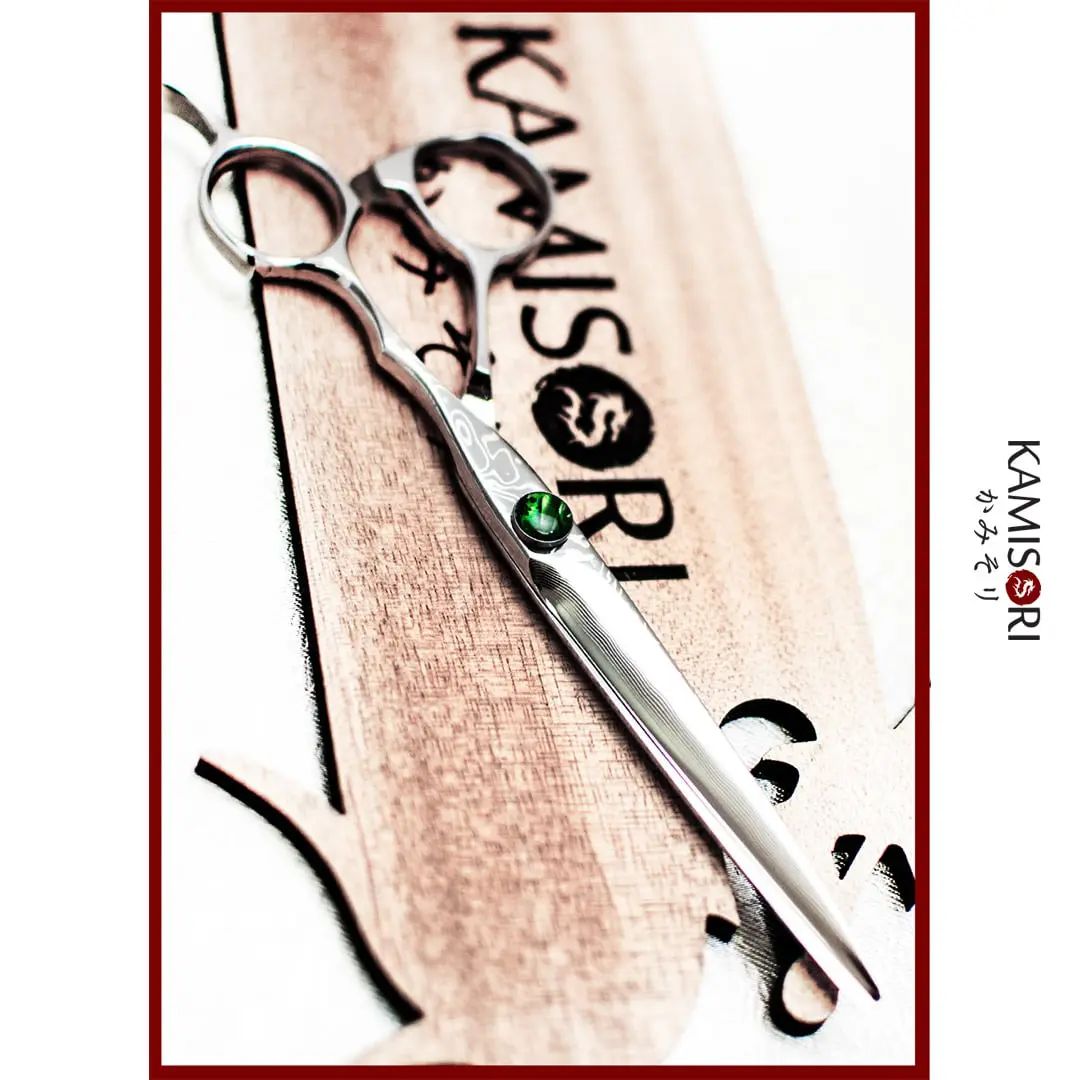 This hair scissors collection is handmade by experienced Japanese workers. Moreover, the craftsmanship is passed from one generation to another.
Dragon collection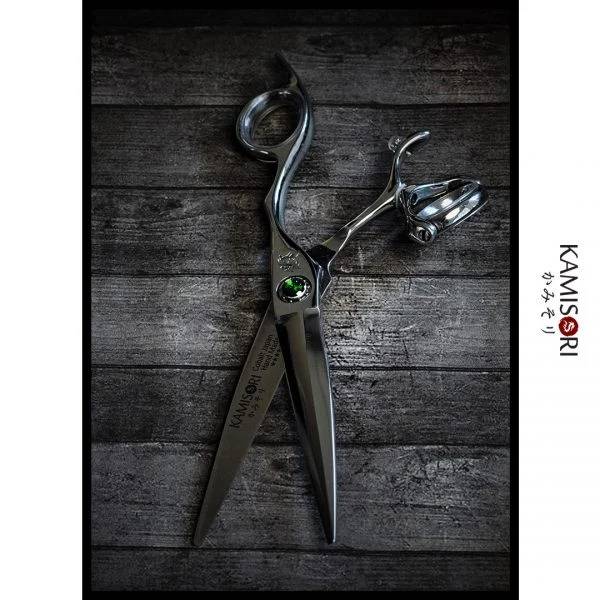 Every hair scissor in the Dragon collection is manufactured after years of long study, research, and testing. These shears bring in a sense of freshness to hairstylists worldwide.
Kamisori hair scissors are manufactured from the finest materials. They are from Japan. And, every pair comes from extensive research and testing. The exclusive Dragon collection is for hairstylists worldwide. These well-balanced and stylish hair scissors allow you to show your talent in style.
The unique ergonomics attracts a lot of people. As a result, these shears are the best haircutting tool in Australia. Experts are looking to buy good-quality hair scissors. For them, the Kamisori Dragon collection is a great choice.
FeatherLite, Kaos & Havok, etc. are some of the models of Kamisori scissors. However, the Dragon collection should be your best choice in Australia.
Titanium collection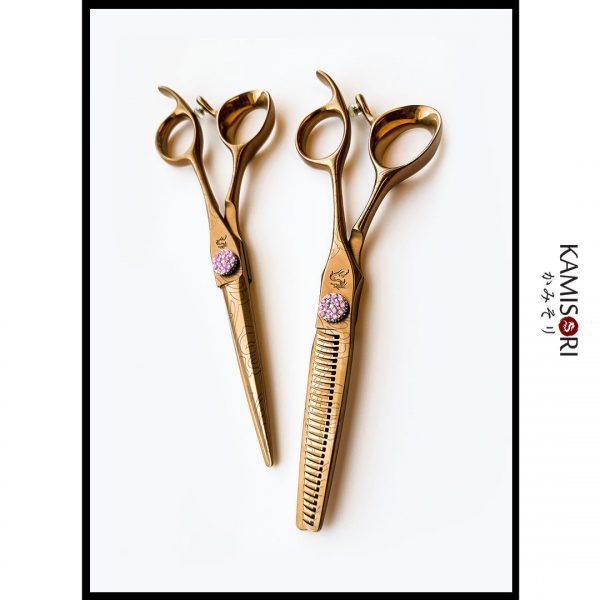 Another great collection that reflects unique Japanese design. Moreover, they fall in line with the latest trends in hairstyling.
The Kamisori Titanium collection is well-performing and exciting hair shears. This collection has been there for more than 15 years. As such, they managed to impress plenty of hairstylists in Australia.
What's more interesting is that the Titanium collection has a low price tag. Also, it is cheaper than other collections such as the Damascus and Dragon. Every expert hairdresser knows that Kamisori has the best entry-level scissors.
Hairdressers love the unique designs and amazing styles of Kamisori shears. Moreover, you have a great pair of scissor that gives you a smooth haircut. The ergonomic design and curved handles protect your hand from fatigue.
The Kamisori Diablo and Black Diamond are other great pairs apart from the Titanium collection. These scissors have stylish designs along with sharper blade edges. Moreover, they come at affordable price tags. And, last for a very long time.
Kamisori Razor Tools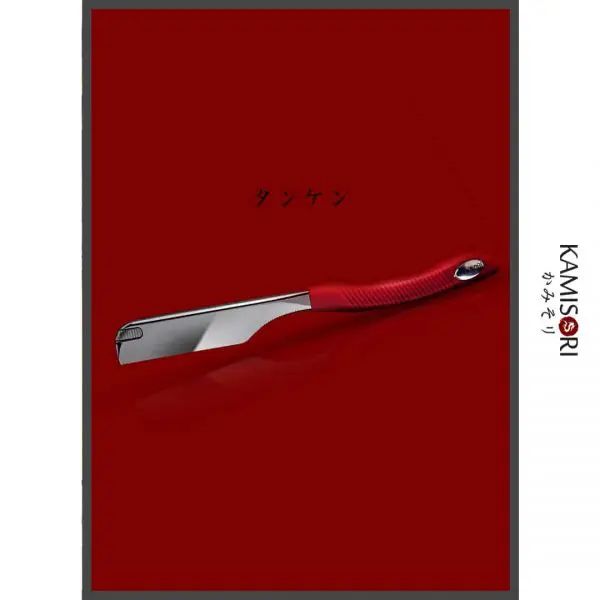 Shaving could be a refreshing attempt when you use razors made from the best Japanese steel. Kamisori is a very popular brand that brings you the Art Of Shaving assortment. The razors have straight cutting blade edges. Kamisori has a reputation for producing quality styling instruments.
Kamisori hairdressing scissors review: Are they good for you?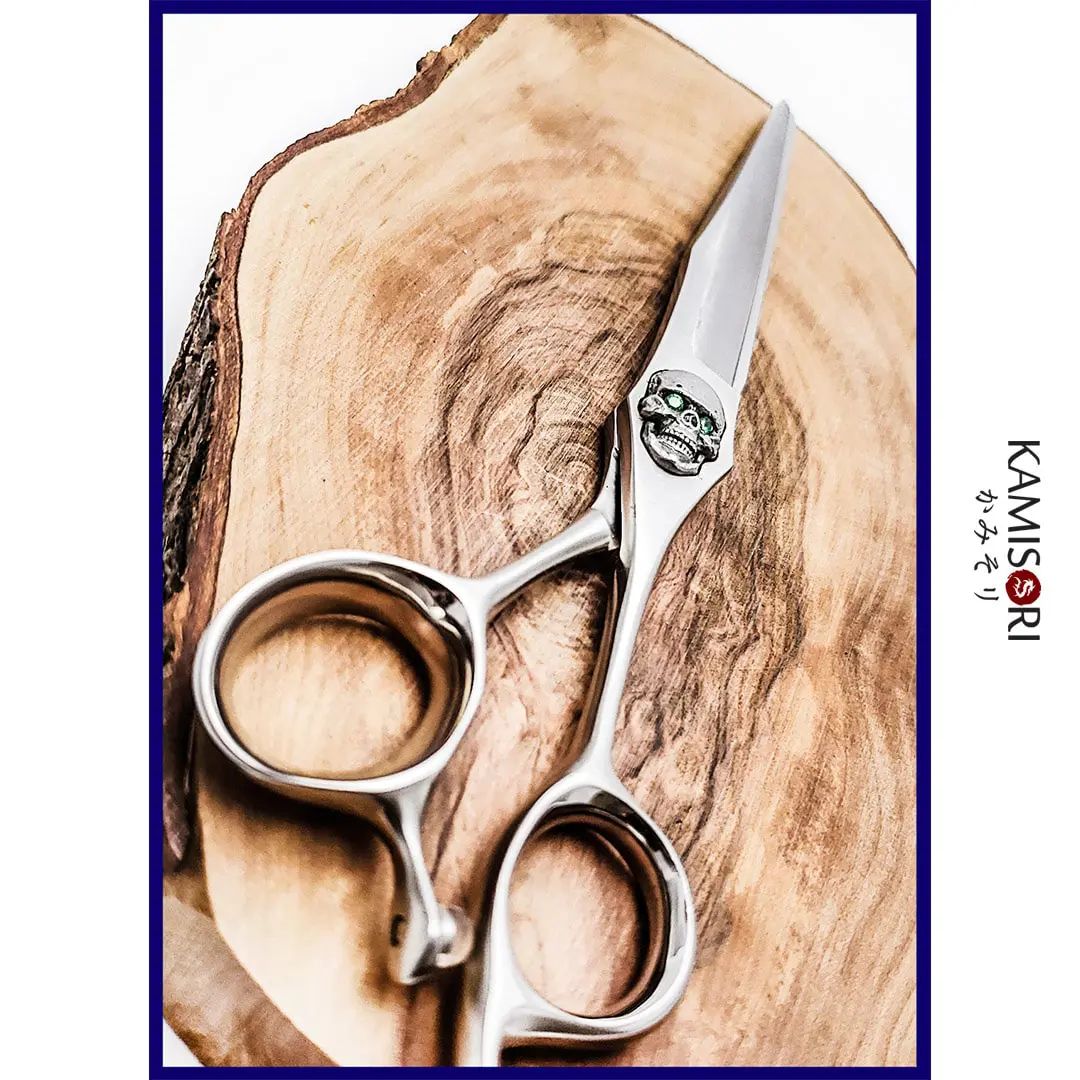 There is a difference in buying hair scissors from retail stores and online stores. However, one of the greatest advantages of buying online is the reviews from the users. Kamisori is a renowned hair shears brand. So, there are lots of reviews from Canada, Australia, and the US.
The reviews show how Kamisori scissors feel, perform, and last. Also, the reviews come from experts who are in this profession for a long time. You get all the explanations in detail.
Our experts at JapanShears are always searching for the best hairdressing scissor brands in 2021. Therefore, we try our best to find out the best hair shears brand for your needs.
As a hairstylist, you want the right hairdressing scissor to get a fast and smooth haircut. Moreover, you look for a good ergonomic design as well. That way, it gives you a sense of confidence when working for longer hours.
There are not many differences when you compare Kamisori with other scissor brands. Sometimes, the high-end hair shears cost you more money. However, this is not the case with Kamisori. To buy a great pair of Kamisori scissors, you don't have to put a hole in your pocket.
How Kamisori became the best hair scissor brand?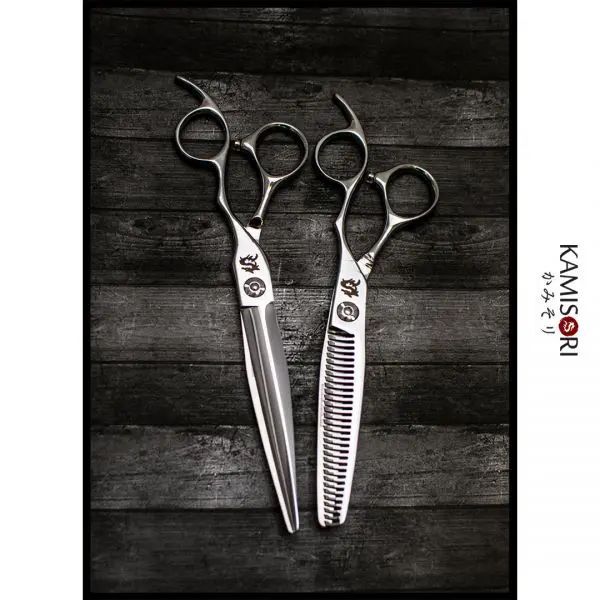 Kamisori produces world-class hair scissors. They are popular in the world because of their high-quality haircutting tools. They use the finest steel in their products. Also, they are handmade to keep the artistic value.
Kamisori has a variety of high-quality hair shears. The sharp blade edge, ergonomic design, and unique craftsmanship make them the best scissor brand worldwide.
Moreover, the manufacturing process is strict. And, each pair is designed to maintain high standards. Each pair of scissors pass through 93 different steps of testing along with severe craftsmanship. This results in a reliable hairdressing scissor, unlike other brands.
Such kind of craftsmanship takes a long time. Moreover, the skill is passed on from generation to generation. Kamisori makes superior scissor blades. And, they treat it as a form of art. Very few scissor brands deliver high-quality haircutting scissors.
With the latest improvements in technology and dedicated hard work, the result is balanced lightweight hair shears. And, they are perfect for delivering fast and accurate haircuts.
Black Diamond Kamisori hair shears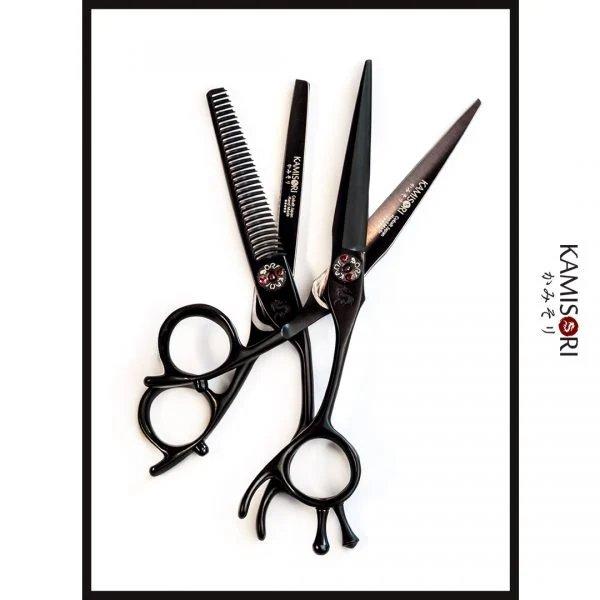 A special kind of steel is used to make swords for warfare. It is called Damascus. Many people believe that Syria is its place of origin. However, the Japanese used Damascus steel on their Samurai swords.
But, these days, hairdressers don't fight with swords. However, they need the best steel that is sharp, durable, and flexible. Kamisori has a variety of Damascus shears. They designed it to keep the heritage going.
The Japanese workers produce hair scissors with perfection. And, the rare craftsmanship is carried away through generations. Hairdressers all over the world use these haircutting scissors.
Kamisori Black Diamond is a high-rated hair shear. A celebrity stylist told that the scissors are the "Ferraris of the hairdressing scissor industry!"