Whether you're looking for a good pair of scissors to cut your child's hair at home, trim your bangs in between salon visits, or are a professional hairstylist, you've come to the right place! The efficient and reliable cutting grade blade equipped, matte black body, and offset handle, makes the Mina timeless cutting and thinning scissors set the perfect choice for professional hair dressers and stylists.
The set is easy to handle and use. The offset handle can let the layman to style or retouch their haircut without the assistance of professional hair dressers. So, if you are an influencer and like to keep your haircut fresh, the timeless cutting and thinning scissor set is the one for you to have at home and do a little fixing all by yourself. In case you are not an expert, use the offset thinning scissors. The set comes with two anti-static combs to make it even helpful.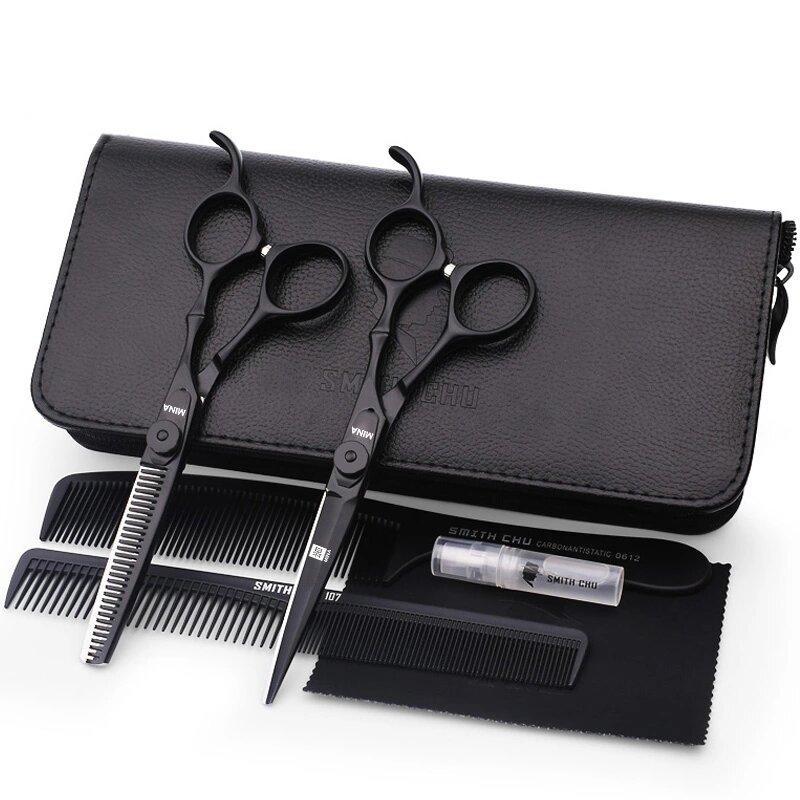 The timeless cutting and thinning scissors set comes with the following features:
Offset handle, letting you have a more natural way to cut and thin, without putting a stress on the hands and fingers. The offset handle gives a more aligned angle of cutting and thinning, thus avoiding blunders.
The body is matte black, made of stainless steel alloy. The body is matte allowing a better grip at the handle and the stainless steel ensuring no rusting.
Reliable cutting grade blade having a convex edge and texturizing.
Light weight, with each piece being 42 grams.
The scissors come in the 6 inches size only.
The set comes with a cleaning cloth, tension key, maintenance oil, leather pouch, and a set of anti-static combs.